Posted by
Alissa

| Posted in Uncategorized | Posted on June 14, 2018
The weather has been so beautiful lately and we've enjoyed having snack outside in our courtyard, which has been much improved by our very own Courtyard Keepers and the flowers they planted this spring with our volunteer, Deb.
Interest in our tadpoles has been growing ever since Joe, our custodian, delivered A LOT of tadpoles from his pond to our room so we could watch them grow.  They are mesmerizing to watch.  Would you believe we even got to watch a dragonfly nymph hatch into a dragonfly right before our eyes one morning?!?  In all my years teaching about pond life, I have never seen THAT happen and it was so exciting for all of us!!
We are also excitedly getting ready for our Author's Breakfast next Tuesday.  I hope you can join us!  You should have received a handmade invitation from your child.
This is what a first grade poetry workshop looks like.  Look at all these poems!!!  Come in next Tuesday from 9-10 to hear us read them.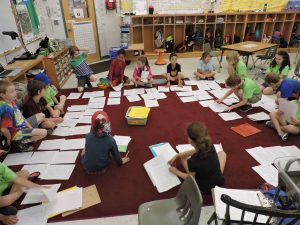 One of our expert builders recently created a playground out of recycled materials at Creation Station.  She shared the details of her work with the class, including a tire swing, rope ladder…….these kids are amazing with the ideas they come up with!